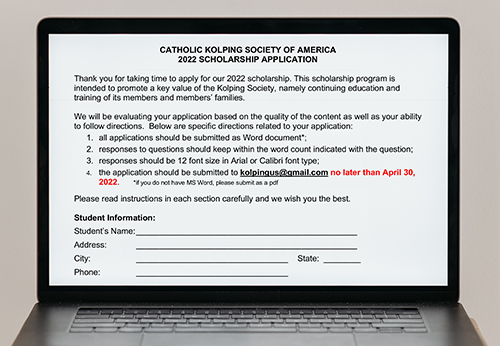 2022 Natonal Kolping Scholarship Program
The Kolping Society of America has re-established its scholarship program to promote continuing education and training among its members and members' families. Scholarships will be extended to high school students, college/university students and those attending a trade school. The objective of the scholarship is to help defer the cost associated with school activities (ex. Books, computers, tuition/fees, tools, etc.). The Program Overview of the qualifications, scholarship details, selection criteria, and timeline is provided below, or a PDF can be downloaded here. The application can be downloaded here.
The theme of this year's scholarship program is taken from a quote by Blessed Father Kolping:
"We want fresh, happy young people, full of courage and hope, to influence the world."
With this in mind, we are asking applicants to answer the three essay questions below. Please know, we will be rating responses based on a scale of 30 points, with each response meeting specific requirements. Points will be awarded as follows:
3 points: Following directions, namely submitting responses in the file format, font, font size, word count specified, and the submittal on or before the due date.
2 points: Committee members will have 2 discretionary points which they can award any applicant who they feel did an outstanding job.
5 points: Question 1
10 points: Question 2
10 points: Question 3
Essay Questions
Question 1: (250 words or less)
For College/University/Trade School applicants:
Why did you choose the university/college/trade school you are/will be attending and how do you see yourself using your education?
For High School Seniors applicants:
Where would you like to attend school next year and what do you think you would like to do with your education?
Question 2: (500 words or less)
Read the following links from the International website and answer the question below:
Father Kolping: https://www.kolping.net/en/about-us/our-founder/
About Kolping: https://www.kolping.net/en/about-us/our-organisation/
Why do you think Father Kolping's ideas and values are still alive and at work in the world today?
Question 3: (300 words or less)
If you were President of a Kolping Family, what would you do to attract younger people and encourage them to join?
Requirements for essay submission: (3 points)
Please submit your essays in a Microsoft Word file format using Calibri or Arial font, size 12.
If you do not have MS Word, indicate it in your submission. Submit all essay responses as a separate document from the application form.
Program Overview
Qualifications: 
1. Candidates must be in or entering:
a. senior year of high school;
b. an accredited college or university;
c. an accredited trade school
2. Candidates must be active Kolping members or an immediate family member of an active Kolping member.
a. Immediate family will be defined as spouse, child, grandchild or great-grandchild.
b. "Active" is defined as a member who is current with their dues for at least two years.
3. There is no age requirement.
4. College students who were awarded a scholarship in 2021 will not be eligible until 2023.  High school seniors who were awarded a scholarship in 2021 can apply for the college-level scholarship.
Scholarship details:

Seven (7) scholarships of $3,000 will be available for qualified college, university and/or trade school candidates and four (4) $1,000 scholarships will be available for high school applicants.
Selection Criteria:
1. The Scholarship Committee will recommend the number of scholarships available, the topics of the scholarship and the selection criteria.
2. All applications received by the designated due date will be reviewed by the Scholarship Committee.
3. Applicants will be judged based on quality of content and ability to follow directions.
4. The Scholarship Committee is not required to award all monies allocated.
Timeline:
March 30, 2022 — Scholarship program posted and applications are available
April 30, 2022 — Scholarship applications due
By May 30, 2022 — Scholarship reviewed and winners selected
By June 30, 2022 — Recipients contacted and money awarded