LATEST NEWS
National Kolping Convention Postponed until September 2021
Through consultation with National Kolping and all of the 2020 Kolping Convention Planning Committee members, as well as the Cincinnati Kolping Board, we reluctantly have decided to postpone the National Kolping Convention until the weekend of September 10-12 of 2021. It appears that it will be quite a while until large gatherings will be allowed in Ohio and Kentucky, and with the majority of participants from out of town being in the high risk group of over 60, we thought it would be safest for all concerned to postpone for another year. Perhaps life will be more normal then and a vaccine for the Coronavirus may be available. The National Kolping Board will decide how the Distinguished Service Awards will be distributed and when the succeeding convention will take place. Stay tuned for further details later in the year.
We hope you and your families are well and stay safe during this uneasy period due to the Coronavirus.
We keep our Kolping brothers and sisters in our prayers and hope for a quick return to normalcy.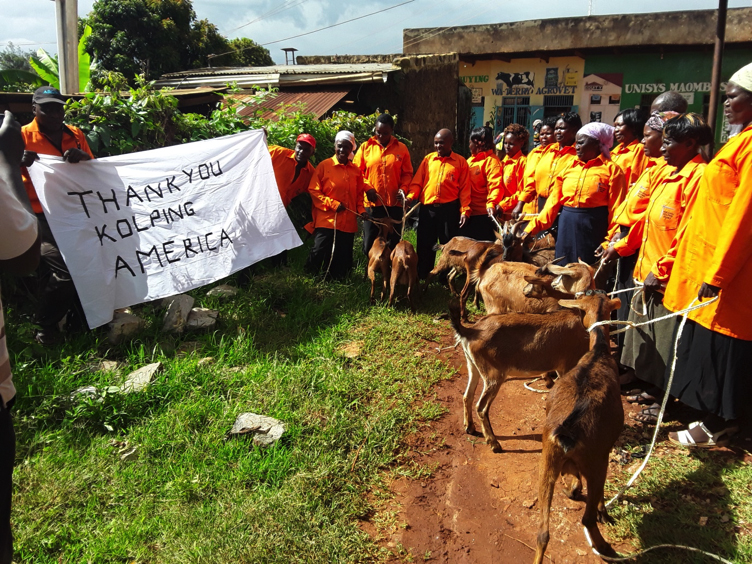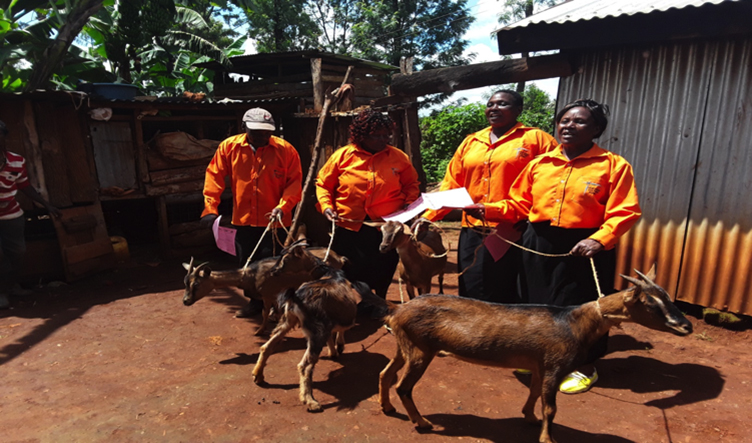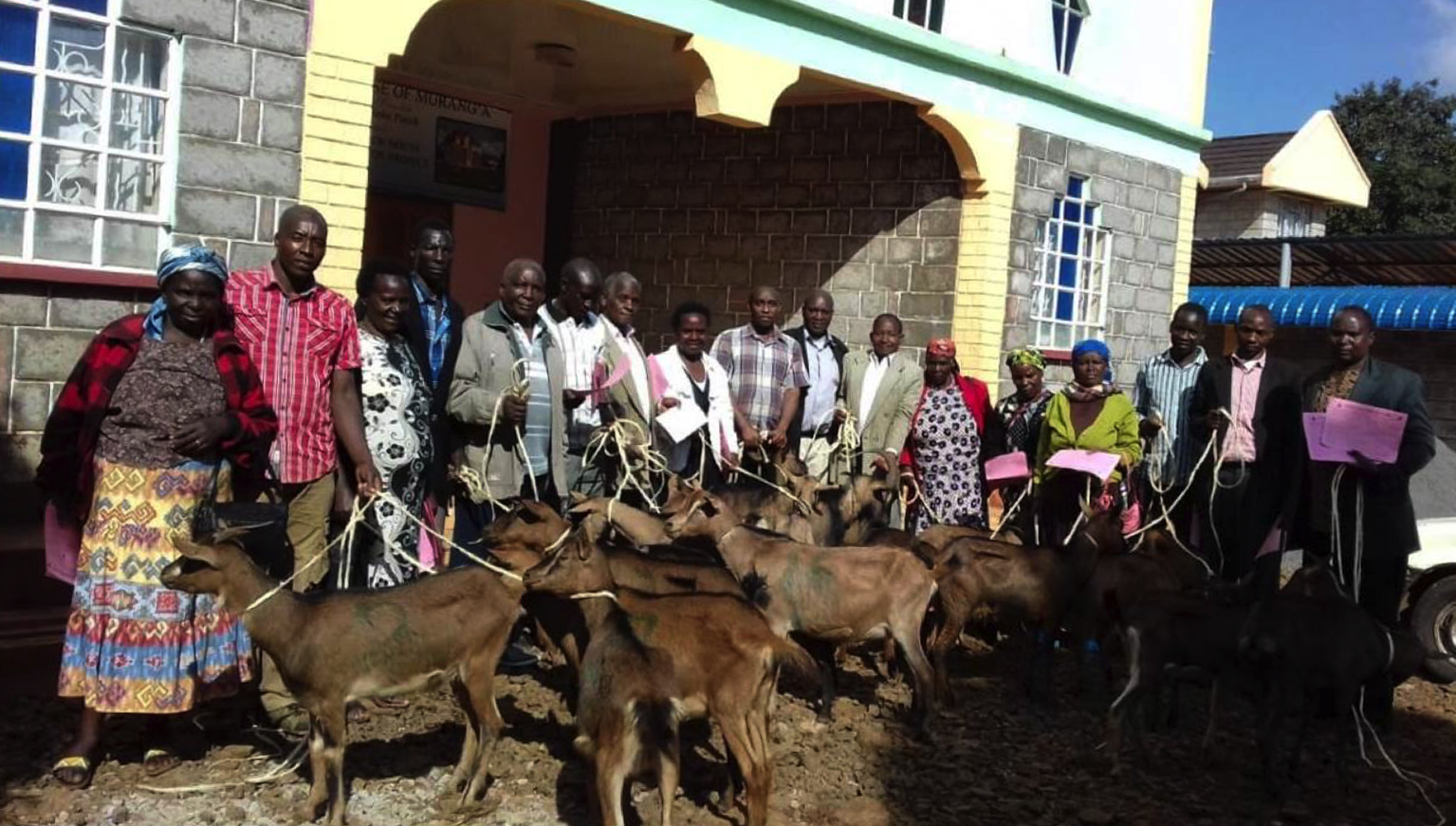 Kolping Organization of Kenya
Lisa Brinkmann and Ted Wilke recently visited our counterparts in Kenya to view firsthand the impact our donations have had on the Kolping families in Kenya.   Below is a report on our progress to date.  If you would like to view pictures from Lisa and Ted's trip, there are 4 vinettes posted to youtube.com under Kolping USA.
Click here for a quick link:  https://www.youtube.com/channel/UCkxGoPDFxFRZ4x0srPJjJTQ

DAIRY GOAT REPORT; FOR THE YEAR 2019
PROJECT SUPPORTED BY, KOLPING AMERICA
Dairy goat project has been a key project in Kolping Kenya. Many Kolping families have lived to appreciate the project for its immense benefits. All the beneficiaries are now able to get goat milk, which is well preferred in Kenya because of its nutritional content. Again the project has enabled Kolping families to get goat manure, which they use in growing of vegetables using the current planting bags known as Vertical Bags.
The project was started in December 2017 and 240 Kolping members have benefited:
2017 — Ndonyo Salbuk, Ndulya, Mwea, Kilimambogo — 75 goats issued
2018 — Kagumo, Kamuiri, Mawego, Ramba — 53 goats issued
2019 — Siranga, Ukwala, Mundika, Omiro —112 goats issued
From 2017, majority of the goats have given birth and the total number of Beneficiaries has increased from 240 to 370. Normally when a goat gives birth, the first two kids are passed on to other members before the beneficiary assumes ownership. Each Kolping family has a committee of three members in charge of the project. The committee visits each beneficiary twice a month and gives a report during Kolping family meetings, which is later shared to the national office. Every two months, the Project Officers visits all the Kolping families running the project, for monitoring purposes.
The project is being carried out in Nairobi, Nyeri and Kisumu zones. We are planning to roll out the project in Taita taveta in Mombasa zone. All Kolping families are really grateful and Kolping Kenya wishes to extend their gratitude to Kolping America.
God Bless
Photos were taken during the issuing of the goats in different Kolping families.
Who We Are
The International Kolping Society was founded by Adolph Kolping as a Catholic, educational and action-oriented organization.
Ideals
The Catholic Kolping Society of America is a non-profit organization which strives to carry out the ideals of Blessed Adolph Kolping in a way that is relevant to our times.
The work of the Kolping Society is aimed at the holistic development of the individual and family. Its members are offered opportunities and assistance in all aspects of life.
The Kolping Society is a place within our world which enables one to enhance the sacredness of one's life. In the Kolping Society, one is provided an opportunity to share one's problems as well as one's knowledge and skills.
The Kolping Society seeks to help its members express Christian witness through their marriages, families, professions and leisure time activities and in so doing, seeks to help its members contribute to the betterment of our culture, society and church.
The Kolping Society aims to aid its members and society as a whole. It seeks to improve our society through activities which promote the good of all in a Christian atmosphere.
The Catholic Kolping Society of America is an inclusive organization which welcomes all who wish to practice the teachings of Christ through the traditions of the Catholic Church.
Mission Statement
We, the members of the Catholic Kolping Society of America, extend the vision of our founder, Blessed Adolph Kolping, by promoting the development of the individual and family; we foster a sense of belonging and friendship through our program of spiritual, educational, charitable and social activities.
Officers
President – Lisa Brinkmann, San Francisco
Vice President – Walter Amrein, Cincinnati
Secretary – Helene Schrand, Cincinnati
Treasurer – Ted Wilke, Cincinnati
National Praeses – Father Richard Bretone, New York
National Administrator – Patricia Farkas
Endowment Fund Chairman – Bernhard Preisser, New York
Endowment Fund Treasurer – Lisa Brinkmann, San Francisco
International Secretary – Dr. Markus Demele
International Praeses – Monsignor Ottmar Dillenburg
Trustees
Lucille Colletti – New York
Frank Fon – Chicago
Jonathan Groll – Chicago
Robert Mayer – Chicago
Marilee Uhlhorn – Cincinnati
Praeses
Father Michael Scherschel – Chicago
Father Richard Bretone – New York
Father Winfried Kellner – Rochester
Deacon William McLoughlin – San Francisco